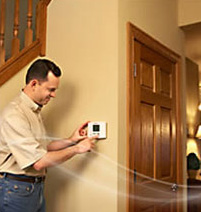 The U.S. Energy Star® program says that using a programmable thermostat is one of the easiest ways to conserve energy at home. A programmable thermostat is recommended for individuals and families who are away from home during set periods of time throughout the week, allowing them to use less energy without sacrificing comfort.
Energy Star® recommends the following steps to maximize your savings with a programmable thermostat:
Choose the model that best meets your needs. Thermostats come with either 7-day, 5+2-day, or 5-1-1-day programming capacity.
Keep the thermostat set at energy-saving temperatures for long periods of time, such as during the day when no one is home and through the night.
Resist the urge to override the pre-programmed settings. Every time you do, you use more energy and may end up paying more on your energy bill.
Set the "hold" button at a constant energy-saving temperature when going away for the weekend or on vacation.
Install your thermostat away from heating or cooling registers, appliances, lighting, doorways, skylights, and windows, and areas that receive direct sunlight or drafts. Interior walls are best.
If you have a heat pump, you may require a special programmable thermostat to maximize your energy savings year-round.
For more information, please contact us.