Air Conditioning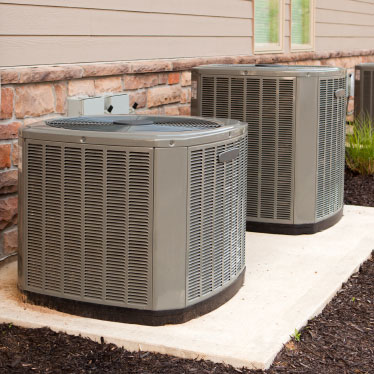 When the temperature starts to creep up, you want to know that your home is ready to offer you a cool, comfortable respite from the weather. Don't wait until the heat is here to discover that you have a problem with your system. Call us now for a pre-season checkup and be sure that your system is operating effectively and efficiently. Also ask about our rebate programs from the State and Federal government as well as energy efficiency upgrades.
Look to us for expert installation of high-quality air conditioning systems from Trane, one of the most trusted names in the industry. You can feel confident that your system will be there to keep your family relaxed and healthy throughout the season. You can also count on our experienced experts for your A/C maintenance and repairs.
Annual Cooling System Checks
There's nothing worse than coming home from a sweltering heat wave to find that your house is just as hot and humid as the air outside. Don't let this happen to you! Sound Energy performs annual cooling system checks to help ensure your central air conditioning system is ready to do its job come summer. Our annual cooling check will:
Reduce your annual energy expenses
Find any minor issues before they require costly repairs
Extend the life span of your A/C equipment
Help ensure your cooling system is ready for summer's hottest days
Give you the peace of mind you deserve
Call 203-655-2539 or contact us online to schedule your annual tune-up today.
Cooling Efficiency
Replacing your old window air conditioner units or outdated central air conditioning system with a new, high-efficiency Trane model can reduce your annual energy expenses by as much as 40 percent. And there are many other ways you can improve your home's energy efficiency during the summer.
Set your thermostat at as high a temperature as comfortably possible in the summer, and ensure humid­ity control if needed. The smaller the difference between the indoor and outdoor temperatures, the lower your overall cooling bill will be.
Avoid setting your thermostat at a colder setting than normal when you turn on your air conditioner. It will not cool your home any faster and could result in excessive cooling and, therefore, unnecessary expense.
In the summer, save money by automatically turning up the air conditioner at night or when you're away from home.
Consider using an interior fan along with your window air conditioner to spread the cooled air through your home without greatly increasing your power use.
Deciduous trees planted on the south and west sides will help keep your house cool in the summer and allow sun to shine through the windows in the winter. Carefully positioned trees can save up to 25% of the energy a typical household uses.