Heating Services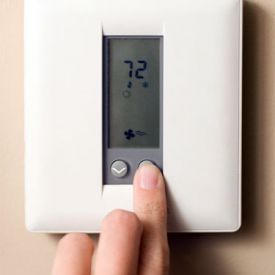 Cold weather can strike quickly and unexpectedly. When the temperature drops and winter announces it is here to stay, feel confident that your heating system is ready to keep your home and family warm and protected.
With Sound Energy, you can choose from a wide array of heating system options to fit your climate control preferences and budget needs. We offer oil- and gas-fired furnaces, boilers, water heaters, heat pumps and even radiant floor heating. Look to us for expert installation, as well as routine heating maintenance and repairs.
Emergency Heating Service
Emergency heating service is available from Sound Energy 24 hours a day, 7 days a week and 365 days a year. With just one call, our family-owned and -operated company will arrive to diagnose the problem and get your heating system up and running again.
Annual Heating System Tune-Ups
Preventive maintenance helps ensure your heating system gives you years of reliable and efficient performance. And our annual heating system tune-up provides the preventive maintenance you're looking for, at a price that makes sense.
Sound Energy's annual tune-up can:
Reduce your annual energy expenses by up to 5 percent
Detect and correct minor issues before they become major problems
Extend the life span of your heating equipment
Help ensure your heating system is ready for winter's worst weather events
Give you the peace of mind you deserve
Call 203-655-2539 or contact us online to schedule your annual tune-up today.
Heating System Service Plans
For a reasonable annual fee, Sound Energy offers a Heating Service Plan that provides year-round peace of mind through protective maintenance, as well as replacement coverage for some of your equipment's most important parts. If something goes wrong with any of these parts, we'll replace it free of charge. Keep in mind: the savings from just one free part replacement could cover the entire cost of the plan.
Protective Maintenance
Oil burner cleaning and vacuuming (when necessary)
Clean and inspect strainers and atomizers
Complete motor lubrication
Inspect and adjust controls and ignition
Energy efficiency test
Covered Replacement Parts
Airstat • Aquastats (single & dual) • Blower motor (max. 1/3 hp., used for heating only) • Burner fan • Burner motor • Cad cell • circulator couplings • Circulator motor (max. 1/8 hp., with multizoned heating panels) • Circulator relay • Delayed oil valves • Electrodes • Fan & limit control • Ignition transformer • Ignition wires • Motor coupling • Nozzle • Oil filter cartridge • Primary control • Pressuretrol • Thermostat (standard heating, one per contract)
For additional details, click the thumbnail image to read more about our Service Plan. To enroll, call 203-655-2539 or visit the Sound Energy "My Account" portal and log in, or register your account if you haven't already done so.
Heating Efficiency
One of the best ways to improve your home's energy efficiency is to upgrade your heating system. In fact, upgrading to an ENERGY STAR®-rated oil-fired heating system can reduce your energy expenses by up to 40 percent! Short of that, there are many smaller steps you can take to improve your heating efficiency.
Clean or replace filters on furnaces once a month or as recommended.
Clean warm-air registers, baseboard heaters, and radiators as needed; make sure they're not blocked by furniture, carpeting, or drapes.
Eliminate trapped air from hot-water radiators once or twice a season; if unsure about how to perform this task, contact Sound Energy.
Place heat-resistant radiator reflectors between exterior walls and the radiators.
During winter, keep the draperies and shades on your south-facing windows open during the day to allow the sunlight to enter your home and closed at night to reduce the chill you may feel from cold windows.
Conversions
Today's homeowners are presented with a number of energy choices when it comes to heating their homes. We at Sound Energy want you to make the smartest decision for your home and your family. So, if you're thinking about converting, please call 203-655-2539 or contact us online to schedule your free heating conversion consultation. We'll help determine which energy source is best for your home, and provide you with a step-by-step plan that will get your new energy-efficient heating system up and running as quickly, conveniently and affordably as possible.
Hybrid Heating System
Smart homeowners understand that different temperatures call for different heating options, but aside from lowering or raising your thermostat, what can you do? With a hybrid heating system, you're given more options for greater year-round comfort and efficiency. A hybrid heating system works by combining a warm air furnace or boiler with a ductless heat pump. During the coldest days and nights, your home will be heated by the boiler or furnace, as normally. However, when the temperature begins to rise, your heat pump will take over to reduce your fuel usage and ensure optimum heating efficiency. What's more: smart hybrid systems can automatically make the switch, so you can sit back, relax and enjoy the savings.
To enjoy the intelligent comfort and efficiency of a hybrid heating system, call or contact Sound Energy today.